William Haggar, Fairground Film-Maker
Family Memories
During the first twenty years of their married life, William and Sarah Haggar had eleven children. Several of their children and grandchildrem have contributed their memories to help write this book.
1. Will Junior (1871-1935)
Will Junior, an accomplished actor, married a London actress, Jane Emily Silverton - her stage name was Jenny Lindon. Set up by his father with his own theatrical company, Will toured South Wales independently, and, with Jenny, co-operated in the making of many of William's films, including The Poachers, A Message from the Sea, The Sign of the Cross, The Dumb Man of Manchester, and The Maid of Cefn Ydfa. In the 1914 version of The Maid of Cefn Ydfa, Will's eldest daughter Jennie appears as Gwenny, Ann Thomas' maid. Jennie's daughter Moya, who lives in Canberra, told Peter Yorke about acting in her grandparents' company in the 1920s, and produced "missing" pages from family memoirs.

2. Fred (1873-1913)
Perhaps overshadowed by his elder brother, Fred married Catherine Waldron, the daughter of a writer, in 1892, and moved away to pursue the career of a travelling actor on his own. After Catherine's early death at Chester-Le-Street in 1906, Fred returned to South Wales, acting with Will Junior's company in Llanelli in 1911, before his own death two years later.

3. George (1875-9)
George died shortly after having been vaccinated against smallpox: his father vowed that no more of his children would be vaccinated.

4. Ellen Elizabeth (1877-1890)
Ellen grew up in the travelling theatre, and was becoming a fine actress when, one morning at Chepstow, she slipped away for a paddle in the Wye - and was never seen alive again. "Found drowned" was the verdict on her death.

5. Jim (1879-1925)
Jim, with his younger brother Walter, helped his father make limelight to show their first films in 1898. William took Jim into partnership in 1899, before Jim's marriage to Kate Silverton (Jenny Lindon's sister) in 1900. Jim acted in many of William's films, notably as the comic tramp Tired Tim to Walter's Wearie Willie, and as The Sheep Stealer. In 1910 he was installed as his father's first cinema manager, at The Royalty Theatre in Llanelli, and for five years played a prominent part there, filming local events such as the rail riots and, with his father, The Stepney Wedding in 1911. But his personal life was troubled - he and Kate lost two children in 1911/12 - and in 1915 they emigrated to Australia for a new start. Jim died there ten years later.

6. Walter (1880-1953)
The brains of the family business according to his sister Lily, and an entertainer throughout his life, Walter took a prominent part in all his father's affairs. After helping with the transition to showing films, he acted in many of them, notably The Poachers, The Bathers' Revenge, The Life of Charles Peace , and many others now lost. After his marriage to Ada Roberts in 1906, he travelled separately through South Wales with the Haggars' No. 2 Show, until stranded at Neyland in 1915 by the requisitioning of his showman's engine for war work. After the war, he returned to Aberdare to take over the management of his father's cinemas there and in Llanelli. On William's death in 1925, Walter sold up, moving first to Bournemouth, building a new cinema in Fordingbridge, and later to Pembroke to take over Haggar's Cinema there after Will Junior's death. Late in the 1940's he moved to Alderholt near Fordingbridge, where, in his last years, he composed memoirs of the family's life with the travelling theatre, and with the Bioscope. The first of these was published in the magazine "Dock Leaves" in 1953: the second remained in uncorrected typescript at his death. Walter's son Leonard followed his father in the management of Haggar's Cinema in Pembroke, and Leonard's son Roy, who was until his retirement a drama teacher in Tenby, lectures on William and his films, and has preserved many of his grandmother Ada's memories, for inclusion in the book.

7. Archie (1882-95)
Named after Archibald Carlyle, the male lead in the popular drama "East Lynne", Archie died of TB.

8. Rose (1885-1967)
Rose is not known to have acted in plays or films, but a photograph shows her in short-skirted "Paraders" costume, so she, like her younger sisters, will have shown off her legs dancing in front of the show to entice the customers. She married a Rhymney miner, Sid Moses, and emigrated to Australia in the 1920's. Her grand-daughter Gloria, who lives in Queensland, gave Peter Yorke photographs to illustrate the book.

Picture: Auntie Rose in Parader Costume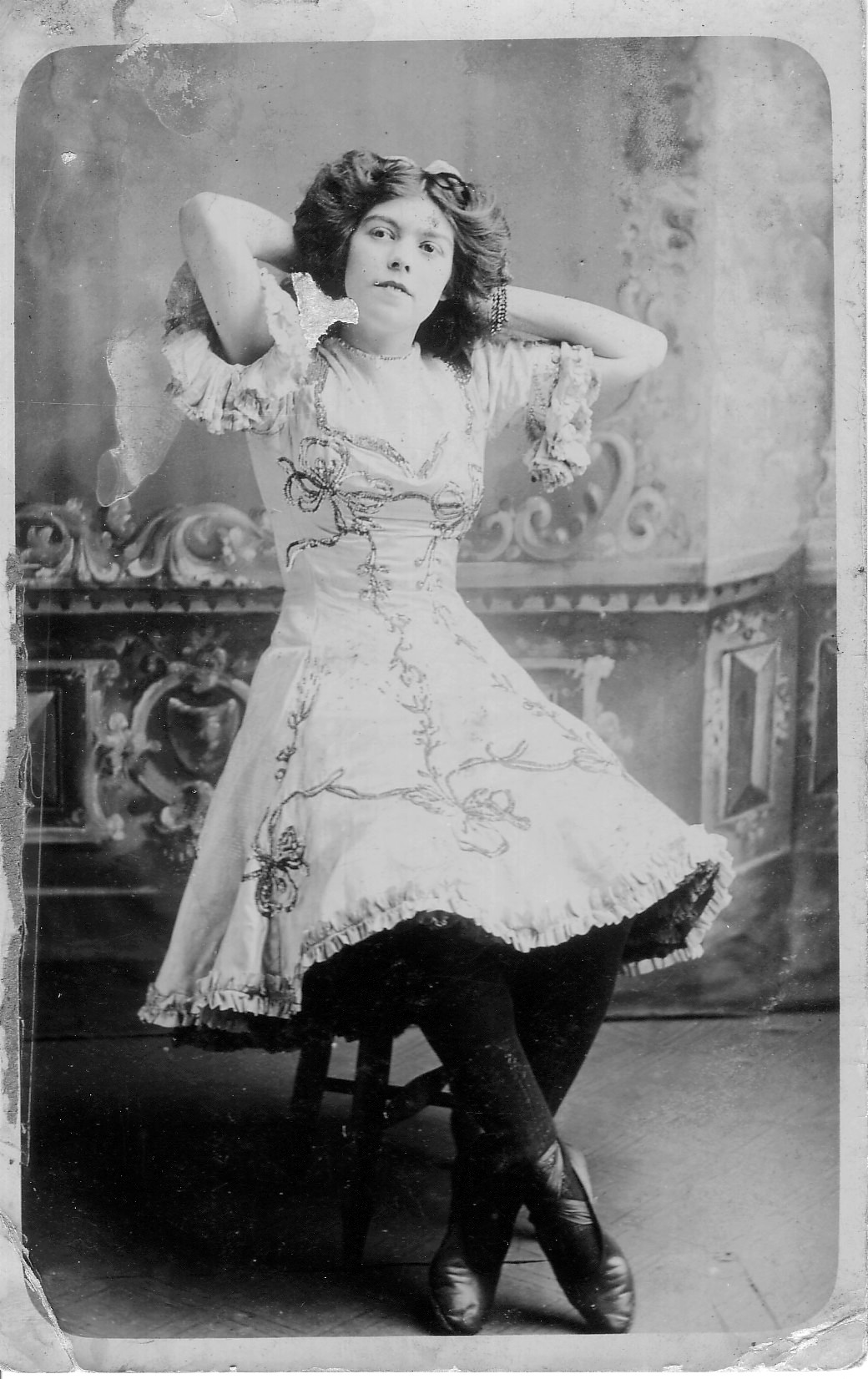 9. Violet (1887-1979)
Peter Yorke's grandmother received no schooling. As a teenager, she sang songs on stage, acted in the films - she can be seen as Mrs Dyson in The Life of Charles Peace , and took the lead role as Maria Marten in the lost film The Red Barn Crime - and in 1908 at Neath Great Fair led the paraders in front of her father's show. She married Cyril Sydney Yorke, the son of a Forest of Dean miner, taken on by William as his fairground barker, and remembered by Emlyn Evans of Aberdare as supplying narration for the silent films. "Ha! How beautifully she sleeps! Little does she know who is around the corner. Who can it be? Why, it's the dastardly Sir Jasper!", he is remembered as declaiming. After their marriage failed, Violet went into service in the Forest of Dean: it was there in Coalway that her grandson spent many happy holidays with her. After giving up her home in 1958 because of ill-health, Violet spent her remaining years in an old people's home in Truro, near her son Cyril.

Picture: Violet Haggar


10. Henry Percy (1889-1945)
Henry acted in some of the films, and confessed to have been a parader, in a speech to Merthyr Rotarians quoted at length in "The World's Fair" in 1936, providing valuable insights into how the family lived while travelling with their portable Bioscope show. Henry managed various cinemas, never married, and died after a fall from the balcony of a picture house in Birmingham.

11. Lily May (1891-1973)
Born in the coal yard at Brynmawr, and known affectionately in the family as "Coalyard Lil", Lily was sent for schooling to her grandmother Elizabeth Taylor in Kilburn, returning in 1905 to play the part of Peace's boy assistant in The Life of Charles Peace. She acted in several later films, now lost, and was a parader. In 1912 she married Bert Richards, her father settling on her Haggar's cinema, The Palace in Mountain Ash, where she brought up her five children. In 1948, she went to the cinema in Rhiwbina, Cardiff, to see Cavalcanti's compilation film celebrating the half-century of the cinema, and recognised herself on screen in The Life of Charles Peace, at that time erroneously ascribed to Yorkshire film-maker Frank Mottershaw. After writing to the National Film Archive to claim the film for her father, she spent much energy during the rest of her life publicizing him, giving interviews, and writing a biography, based on her brother Walter's Bioscope Recollections interspersed with her own memories, which her daughter June typed and edited. After Lily's death, June, who now lives in the West Country and has shared her memories of his father and grandfather with Peter Yorke, identified The Poachers and A Message from the Sea as her grandfather's films. June's niece Caroline, who lives in the New Forest, wrote an article about her great grandfather for "The Times" on the occasion of the seventy-fifth anniversary of the cinema, and has now given Peter Yorke photos and copies of newspaper articles for the book.